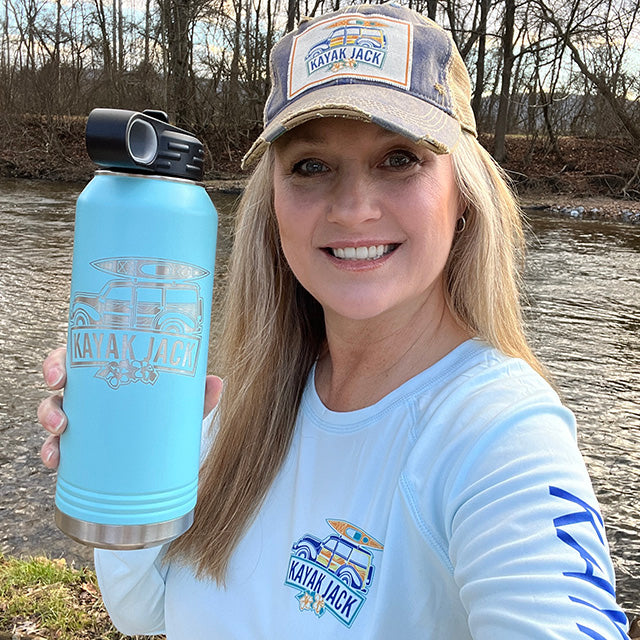 A Lifestyle Brand for Kayakers Emerges
| Sherri Blum
Hello my fellow kayakers! I've received so many positive emails and messages from kayakers who are excited about our Kayak Jack invention. One woman wrote and said "I've been staring at my kayak on the floor of my garage for several years now, thinking that I should sell it. The idea has made me so sad, but until I read of your invention, I figured my kayaking days were over since I can't lift it to my roof rack alone." She went on to say, "Now I'm so excited and I'm saving my money to get your Kayak Jack when it comes to market!"
Another 60 ish year old man wrote and said "I'm a river guide in my 60's. Getting 2 kayaks, 2 canoes and a john boat loaded each day is becoming more difficult." he went on to say that the Kayak Jack will help prolong his career and of course his ability to share the joys of kayaking with others. 
The feedback from the kayaking community has been amazing! All the more reason to continue pouring my heart and soul (and savings!) into this invention. 
Which brings me to the next topic... the lifestyle brand that we've developed! With all the amazing feedback about the kayak jack itself, we're also getting a lot of attention for our super cool logo featuring a retro Woody with a kayak on the roof rack. People began asking for hats and shirts with the logo! So I've decided to give the people what they want and have developed a wonderful line of clothing and gifts around the Kayak Jack logo. 
We have hats, solar performance shirts for on the water that give you UPF protection of 50+, tees, jerseys, bucket hats, water bottles, travel tumblers and more! 
Please note that your purchase of the Kayak Jack merchandise helps us earn money towards the prototype invention and bringing the jack to market to make kayaking accessible to more people. The legal and engineering expenses are literally costing my life savings (I'm 55 years old this week!) and the additional income from the shirts and gifts will help defer a bit of the cost.
See the video update below and stay tuned! Thanks friends!
Sherri